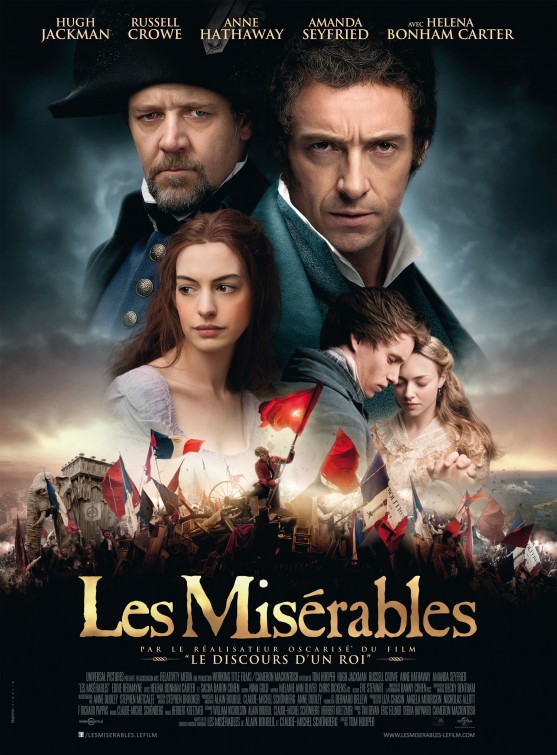 Category
: Movie
Genre
: Musical / Drama / Romance
Director
: Tom Hooper
Writer
: William Nicholson, Alain Boubil
Producer
: Universal Pictures, Relativity Media, Working Title Films
Cast
: Hugh Jackman, Russell Crowe, Anne Hathaway, Amanda Seyfried, Sacha Baron Cohen, Helena Bonham Carter, Eddie Redmayne, Aaron Tveit, Samantha Barks, Daniel Huttlestone, Cavin Cornwall and more
Tagline
: Fight. Dream. Hope. Love
Jean Valjean during the 19th century France was known as Prisoner 24601 and was released from prison and then breaks parole wanting to create a new life for himself while at the same time being hunted by a ruthless policeman named Javert. Jean Valjean agrees to care for Fantine's daughter, Cosette which changes their life forever.
It's actually my first time to see Les Miserables. I;ve been hearing about it and all. And then, we just had to steal a moment and rushed to meet the Last Full Show in the middle of the Liwanag World Festival preparation. And one thought that we cannot go and watch ano? But, we did.
I guess I numbed out during the whole film. I wasn't too emotional about it, knowing it should be as I heard other people gushing about it being a cryfest. Maybe because while we were watching we were hearing background noises (at our back) chatting like they were not in the cinema. That was quiet a distraction. Oh well.
In the end, I liked the whole thing. I didn't expect it to be a full-pledged musical, but it was like that the whole time.But, it was a good thing, I think even if you don't enjoy musicals, you'd enjoy this one.
Cinematography was great, all the actors did fantastic, specially Anne Hathaway although her appearance was just the first half and a little bit in the end of the film. The costume, production design, everything was just so good... the whole production was compelling because it's grounded with good performance.
Photo Source:
IMP Awards